Andreas H. Bitesnich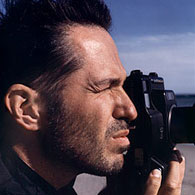 Andreas H. Bitesnich is seen as one of the greatest photographers of our time. Especially in the area of nude photography, he counts among the best in the world.
Andreas H. Bitesnich was born in Vienna in 1964. After secondary school, he completed a traineeship as a retail salesman. His passion for photography began with a visit to Milan where, inspired and captivated by the fashion photographs of a colleague, he acquired his first own camera.
11 Results